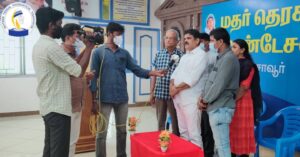 Scholarship Program
Scholarship to children of frontline workers.
Extension of scholarship to children of economically backward frontline workers of government hospitals, public health department, corporation, municipality, panchayat union and other frontline workers involved in covid relief operations in Tamilnadu announced in the meet.
To apply for scholarship use the below link, website or QR code.
https://tinyurl.com/7c54pdwz
www.motherteresafoundation.org
Read More »