Sacred Ascendancy of Mother Teresa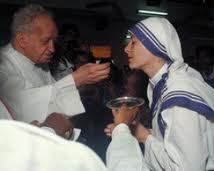 Mother Teresa Joined the Loreto Novitiate on May 23, 1929 and gave her first profession on 25.05.1931 at the age of 21 after very strenuous and rigorous training. From then she was known as Sister Teresa. We remember this Holy Day as Mother Teresa was closer to God in the service of Humanity.
Mother Teresa took her final vows on 14.05.1937 and became a nun while she was teaching at the Loreto Convent School in Eastern Calcutta. This day is another landmark in the illustrious life of the legend Mother Teresa and we are duty bound to remember this sacred day.
---